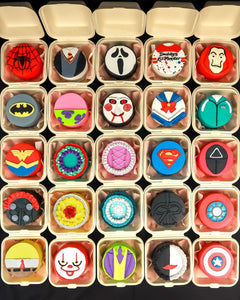 BOO!~ That's a wrap on one our most ~extra~ pop-up sales yet!  Watch the video for a cute same day edit🎥 💌💌There's been a lot of firsts for this pop-up sale and we know this event is going down on Aegyo Cakes' history.•First Pop-Up Sale 25 design options•First time we opened our Pink Gates for customers•Frist time we took pictures with our lovely clients 😎🥳 👏🏻👏🏻Special mention to our baking team and our main baker👩‍🍳 for whipping up over 100 extremely detailed Lunchbox Aegyo Cakes for our beloved clients!       👻🎃💀Happy Halloween Everyone! We hope we made it a little...
---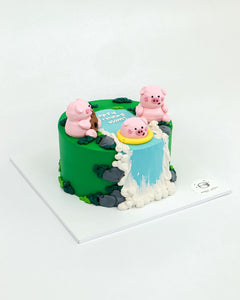 Oink oink 🐷!~ Would 💯percent belong to this 🎉 party! 😅😂🤣Give us a comment 🐷🐷🐷 on our IG (@aegyocakes) if pigs are your spirit animal!   Details on our Baker's newest masterpiece:100% All Edible Swiss Meringue Buttercream 3D Sculpting
---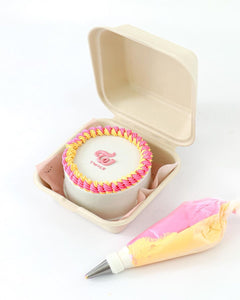 🎵Boy, I, boy, I, boy, I knowI know you got the feels for this 🎂 🎶😂🍭Introducing the ~Ultimate~ Twice Cake for all the ONCE out there!   Details:4" Neon Magenta & Apricot Swirl Velvet CakeLunchbox TypeSignature Cream Cheese FrostingTwice Lightstick inspired Duo-Colored Neon Piping    
---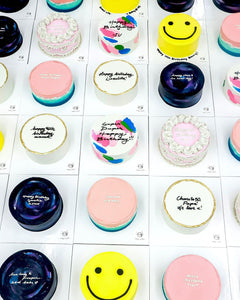 🎉OMO!~ Kyeopta. Our best-selling pre-designed collection is still available for months October to December. 🗓🛒🏷Check our IG highlights over at (@aegyocakes) for the Calendar of Availability. Reserve yours here. Choose your favorite Signature Aegyo Cake design! • Galaxy Dreams 🌌• Gold-Rimmed ⚜️• Be Happy 😊 • Beach Vibes 🌊• Colored Palette 🎨 • Vintage Dreams 👑    
---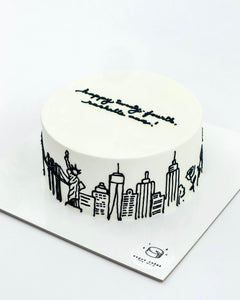 ~ Wanderlust Minimalist Aegyo Cake ~ The perfect ~aesthetic~ Aegyo Cake for the wanderer by heart. ✈️❣️🧐Can you guess the places our client has been to?